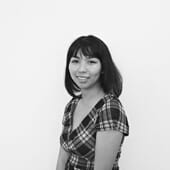 Mint
3D Developer – IT/R&D
I am a part of the 3D Developer team which assist in the production system. I help solve IT issues relating to the 3D production to make sure everything runs smoothly and increase the efficiency for the production team.
I like working with computer languages, the logic behind the coding fascinates me and solving new challenges every day, it's never dull!

What I like about DIAKRIT? We have a very diverse group of people which makes the work environment extremely unique. The dynamic here is upbeat and energetic which makes working here very engaging.
Living & working in Bangkok
I was born in Thailand but moved to New Zealand from a young age, despite being able to speak Thai, I'm learning new things from the Thai culture daily. Living in Bangkok while working at DIAKRIT is a great balance of the international lifestyle and the Thai way of living.
My favorite spot in Bangkok
My favorite spot in Bangkok would be the JJ weekend market, the variety of food and shopping there are endless. It's the first spot I take my foreign friends to when they visit Bangkok.